Full O' Life Natural Foods Market & Restaurant
2515 W. Magnolia Blvd
Burbank, CA 91505
818-845-8343
Restaurant, 818-845-7411
Daily Specials, 818-845-8361
Over 50 years ago, Barney and Kay Matheson began their pioneering work in the health food industry. Their goal was to make available to the public a complete nutrition center and in June of 1959, they opened Full O' Life natural foods supermarket and restaurant. It was one of the first modern, up-to-the-minute natural food centers in the west. The market offered the largest selection of health grocery items, naturally produced dairy products and meats, supplements, and cosmetics. The most important feature of Full O' Life was the produce section where organically-grown fruits and vegetables were brought in daily from certified organic farms throughout Southern California. This unique service made the Mathesons famous in the field of health foods, and brought to the residents of Burbank and other nearby cities the first operation of its kind. Today Full O' Life remains a contemporary and innovative business, continually growing and improving over the years.
In the restaurant, the food has always been hand prepared, using the freshest natural ingredients. It is our purpose to provide you with the healthiest and most nutritious home-cooked foods possible. Fresh fruits and vegetables are used as long as they are available. The chicken and turkey we serve is naturally raised from Shelton Farms, with no chemicals, hormones or additives. Our homemade desserts are fresh baked daily, without the use of sugar or white flour.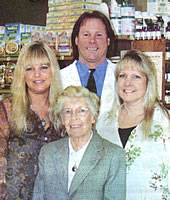 The Matheson family along with the entire Full O' Life staff invite you to enjoy the best that the health food industry has to offer. We thank you, and hope that our healthful, delicious food will help you to experience the best of health! 
2515 W. Magnolia Blvd. 
Burbank, CA 91505 
(818) 845-8343
Celebrating 50 Years!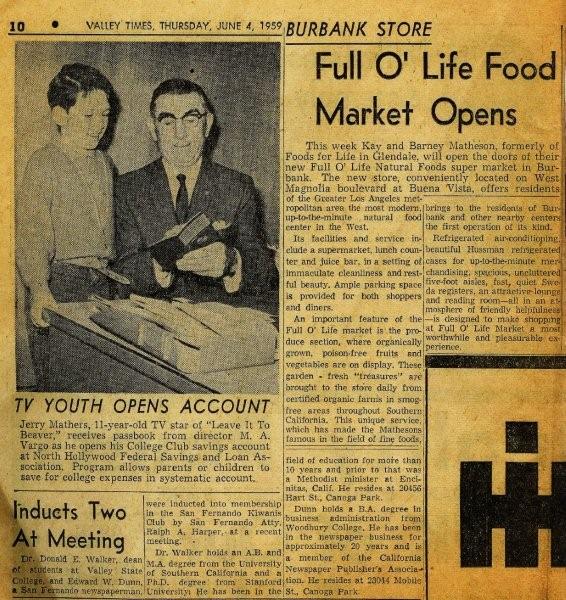 Full O' Life Market announces it's Grand Opening in the local newspaper on June 4th, 1959.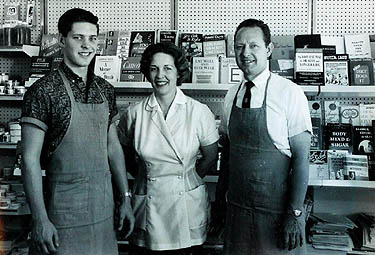 The owners and founders of Full O' Life Market , Barney, Kaye and Jim Matheson.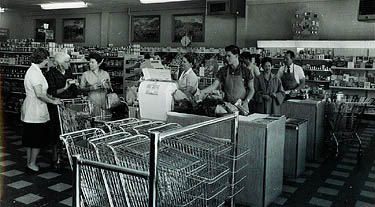 Full O' Life gets off to a busy start.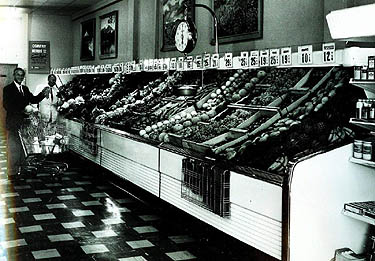 First in the Los Angeles area to offer a fine selection of organic produce.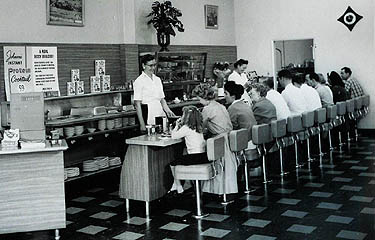 The beginning of more than fifty years of serving healthy meals to the community.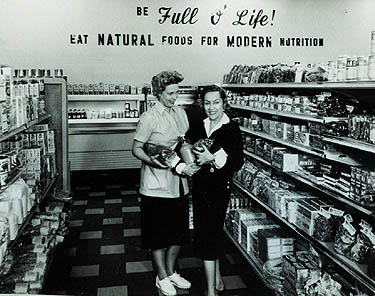 Kay Matheson with actress Gloria Swanson who proclaimed, "It's better to eat the bugs than poison" (referring to the benefits of organic produce)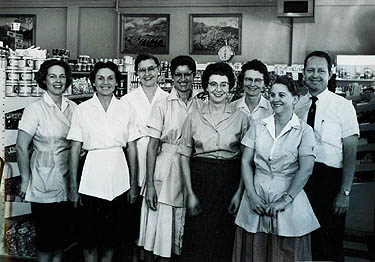 The original staff at Full O' Life.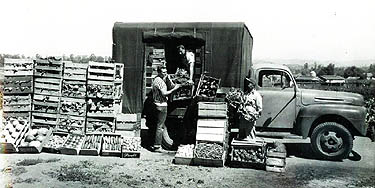 Twice a week, Barney Matheson drove to the Escondido area to pick up fresh organic produce.